Carvahall was a tiny village, home to around 300 people, located at the top of the Anora River in the northern part of The Spine in Palancar Valley. The village was the only settlement in the valley aside from Therinsford and was rarely visited by anyone save for merchants and trappers. Most of the village was made up of stout log houses with low roofs and wide porches on their fronts for talking and conducting business. Every year, the Traders would come to town and sell their wares to the villagers. In the early novels, it appears that, due to its remote location, the town had been left mostly untouched by the Broddring Empire or its soldiers. In the film however, there was a constant military presence, which regularly drafted male civilians, upon turning eighteen, to fight for Galbatorix.
Role
[
]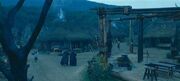 Carvahall was the home of Eragon, who lived on his uncle Garrow's farm for the first fifteen years of his life. It was while hunting in the nearby Spine that Eragon found Saphira's egg. Eragon and his uncle, Garrow, took the egg into Carvahall to show it to the Traders and they spoke to Merlock, an expert in jewelry. The Traders visited Carvahall every year during winter.
Brom hid out in Carvahall after slaying Morzan. Brom took up the face of the village storyteller, but was actually there to watch over Eragon, his son.
The Ra'zac came to Carvahall and were met with resistance, but eventually gained information regarding Eragon from the butcher, Sloan. The Ra'zac attacked Eragon's Uncle, Garrow, and torched his farm. Following Garrow's passing, Eragon & Saphira fled the village with Brom. After Eragon's departure, the Ra'zac, accompanied by a group of imperial soldiers, returned to question Roran as to Eragon's whereabouts, thus leading to the Battle of Carvahall. After the flight of the villagers, leaving only Ivor and the families of Parr, Knute and Ethlbert, who refused to leave and were determined to remain. Carvahall was burned to the ground and utterly destroyed, the only remaining occupants being a few scavenging wolves.
Eventually, it was rebuilt by the surviving villagers and Roran had plans to build a castle, "nothing fancy" but enough to protect them if another battle occurred.
Occupants
[
]
Traditions
[
]
As with most human settlements, Carvahall had peculiar traditions, such as:
Whenever someone died, a sprig of hemlock was placed on their chest, a silver amulet was placed around their neck and black pebbles were placed over their eyes.
At the age of 16, a boy would then be considered a man in Alagaesia. In Carvahall, a celebration would traditionally be held in his honor.
See also
[
]